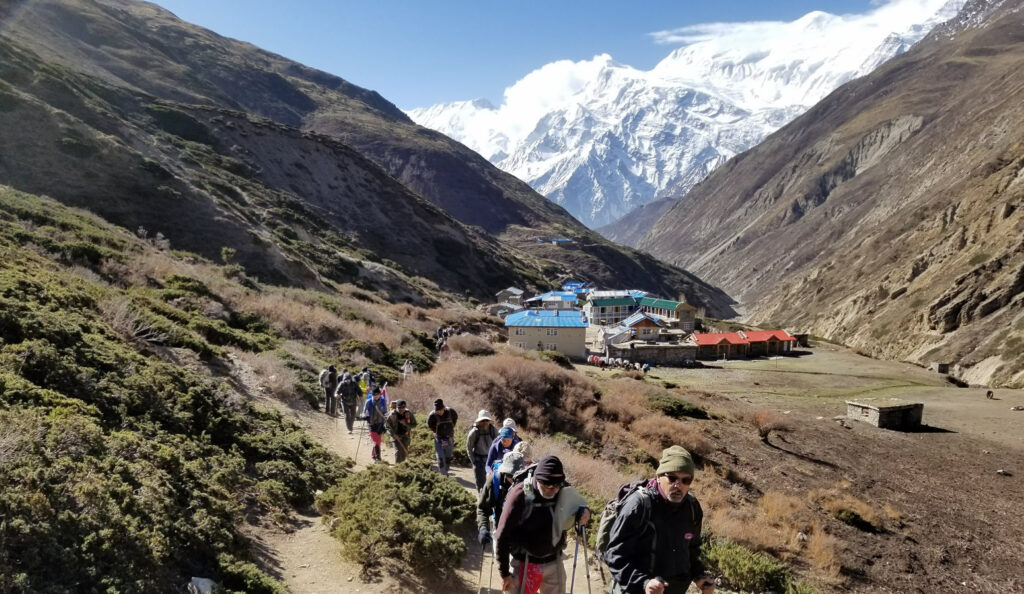 Nepal is suitable to travel to any time of the year. However, it's a fantastic option if you prefer to go to Nepal during winter. From December through February, Nepal experiences its winter season. The lowlands have temperatures ranging from 7°C to 23°C, while the mountainous parts have a more astonishing average of 12°C with temperatures below freezing at night. In Nepal, there are many places to visit during the winter.
1. Poonhill
Compared to other trekking Routes in Nepal, the trek to Poon Hill is not challenging. It is a medium-distance trekking track that gets you near the sky-touching peaks. Temperatures range from -5 to 5 degrees Celsius at night and 8 to 15 degrees Celsius during the day on this trek in December. Early mornings and evenings will be chilly, but you'll be warm enough if you're prepared. In the evenings, teahouses along with the path offer fires. Great mountain views come with clean, pure winter air. There will be no rain clouds to obstruct your photo possibilities!
In the winter, fewer visitors visit Nepal because they believe it will be cold and snowy. You get a stronger sense of being in a serene setting away from the masses when fewer people are on the trails! You also have a more extensive selection of mountain accommodations and may be able to obtain a better deal!
2. Mardi Himal
The Mardi Himal trek is a popular tourist destination in Nepal's Annapurna region because it is a simple and attractive trip. This trek will take you through some of the most beautiful scenery you'll ever see. In December, any trekker will find the Mardi Himal Trek to be a delight. December's less busy trails and cold breeze give a distinct impression than other months. In winter, the Mardi Himal Trek allows you to appreciate nature quietly.
3. Kalinchowk Temple
Kalinchowk is a small town in the Dolakha area of Nepal, around 150 kilometers away from Kathmandu. There is a famous holy Temple site Kalinchowk Bhagawati. The devotee comes to this location and presents the goddess with rice, bronze bells, and Trisuls. Besides that, Kalinchowk is well-known for its natural beauty and winter snowfall adventure. From 3842 meters above sea level, one can enjoy the views. The area is quickly becoming a favorite rapid city escape and snowy destination during the winter season. The winter visit, combined with some buddies to play with, produces an unforgettable memory and provides a welcome break from the routine.
4. Rara Lake
One of the unique, beautiful lakes in Nepal is Rara Lake. Rara Lake is the largest and deepest free-standing freshwater lake in Nepal's Himalayas. It is gently surrounded by hills, mountains, and Rara National Park, making it an excellent trekking destination. This breathtaking high-altitude lake is surrounded by pine, an Alpine hillside, Juniper, and Oak trees, with the magnificent Himalayan snow-capped mountains in the distance. In the winter, the ridges that surround the lake are often covered in snow, giving the lake a lovely look.
5. Upper Mustang
Deserts, ancient rock formations, and unique Buddhist culture can all be found in Upper Mustang. You will have the opportunity to visit some of Mustang's most famous locations, including the Lo Manthang Hidden Kingdom, Jomsom, Muktinath Temple, and many other settlements.
Although the weather and temperature in Mustang are extreme throughout the winter, the scenic attractiveness of the area does not diminish. In the Upper Mustang, January is the coldest month of the year. Upper Mustang's daytime temperatures can range from 1 to 9 degrees Celsius, while nighttime temperatures can reach -20 to -25 degrees Celsius. If you are a seasoned trekker, this trek can be made much better with the right equipment and gear. You can still enjoy most of Mustang's attractions during the winter.
Are you looking for a recommendation for your vacation? Join Nepal Hiking Team for a thrilling winter trek to the aforementioned destinations. They are the industry leader in developing the best Himalayan vacation itineraries, with over ten years of experience. You can count on us to get you into the best trekking experience.