As a child I always believed the very best books were the ones about magic. Fanciful worlds, mythical creatures and richly imagined lands of fairy tales were my primary reading for most of the first ten years of my life.
Children have no trouble stepping into these worlds of magic and folklore and today we'll explore some picture books that showcase one of the most legendary creatures of fantasy, the fairy.
Fairies are particularly fascinating for small children. They connect to these tiny but powerful creatures because the world is such a big place and even bigger if you are a little child. These picture books are some of the best at drawing the reader into the enchanting world of fairies, and I highly recommend them for your next bedtime story.
1-The Dollhouse Fairy
By Jane Ray
One day, Rosie's father is taken to the hospital. As she goes to play with the dollhouse they built together she discovers a very messy and injured fairy named Thistle has moved it. A sweet story of Rosie caring for the hurt fairy in her dollhouse. The day her father returns home, Thistle has recovered and is gone. The illustrations are detailed and quite beautiful, creating a really engaging and unusual book.
2-Fireflies
By Carolyn Watson Dubisch
Two sisters are on a long ferry ride one summer night. In their boredom they explore the upper deck and find themselves surrounded by tiny glowing lights. Hastily, they set out to capture the "fireflies" only to discover these are not fireflies at all! The author shows a great bond between the sisters in this story and the twist at the end will keep children wanting more.
3-Lulu and the Missing Tooth Fairy
By SE Richey, Illustrated by Jhon Ortiz
Lulu lost her tooth and is so excited to get her visit from the tooth fairy. She's saving her money to buy a pony. Far away Trixie, a young tooth fairy has just finished her training and is ready for her first assignment. Needless to say, everything goes horribly wrong. The narration is really engaging in this charming book and Jhon Ortiz brings the humor to life with his masterful collage style illustrations. Kids will demand to hear this one again and again.
4-The Mud Fairy
By Amy Young
Emmalina is a young tomboyish fairy set out to earn her fairy wings. Rebellious against the rigid rules she struggles to find her skill. I do so much love the message promoted by the fairy queen that everyone is good at something and that Emmelina will find her own unique talents, that she simply has to be a bit patient and give it some time. The illustrations are colorful and creative and overall this book sends a wonderful message that everyone has something special about them to share with the world.
5-Ten Magic Butterflies
By Danica McKellar, illustrated by Jennifer Bricking
Ten flowers dream of flying like the fairies they see at night. One by one the fairies grant their wishes and they are transformed into beautiful butterflies. Told in verse and full of bright detailed illustrations by Jennifer Briking, this book is very endearing and introduces counting and early math skills for preschoolers.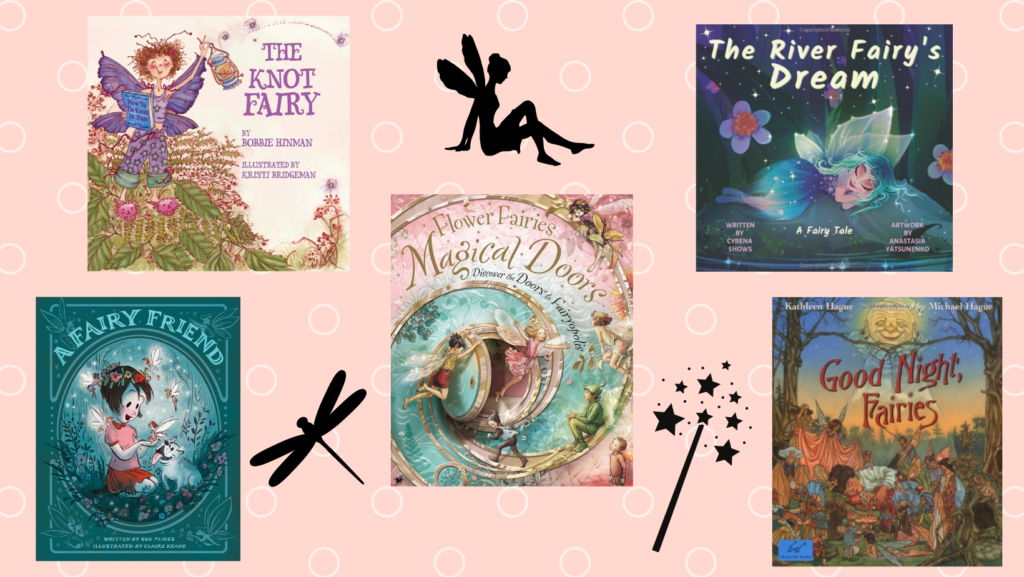 6-The River Fairy's Dream
By Cryena Shows, Illustrated by Anastasia Yatsunenko
A magical story of a fairy asleep on the river bank dreaming of becoming a real human girl. With the help of a magical tiara, her wish comes true. The bright and detailed illustrations bring this story to life. Imagine deciding to leave your life of magic behind and joining our world. Perhaps our world holds some magic as well
7-Flower Fairies Magical Doors                     
By Cicely Mary Barker
A young girl moves into a new home and finds a tiny door leading to the magical world of Fairyopolis. After she makes a new friend in town, together they discover tiny doors all over the neighborhood. This beautiful book has little pop-ups and hidden doors worked into the beautiful illustrations. It's an adventure as much as it is a book. A beautiful gift for any fairy loving child.
8-The Knot Fairy
By Bobbie Hinman, illustrated by Kristi Bridgeman
How do those knots get into your hair as you sleep? Well, of course it's the knot fairy. Told in verse with beautiful watercolor illustrations, the knot fairy visits children everywhere. Dressed in pajamas and carrying a lantern and her little blue book, she finds you as you slumber. Such a cute idea, and just perfect for bedtime..
9-Goodnight Fairies
By Kathleen Hague, illustrated by Michael Hague
A wonderful and sweet bedtime story as a mother sends her child off to bed with tales of fairies. The lush illustrations by Michael Hague show a world of magic and wonder with little red robed fairies to spot on each page. They paint rainbows and hang stars for all the world to see. The narration is enchanting and this one is sure to become a bedtime favorite.
10-A Fairy Friend
By Sue Fliess, illustrated by Claire Keane
The simple rhyming text and soft watercolor illustrations call out to a child's sense of wonder and need for magic. The girl knows that fairies are all around and  she just needs to draw them out. She even shares with the reader instructions on how to build a fairy house to bring a fairy friend to your door. For kids who love fairies this book is just perfect.